Unparalleled insight into war
This year, Eastern Front, the latest work by prolific Ukrainian-born documentarist Vitaly Mansky, codirected by Yevhen Titarenko, will world premiere in Encounters, the competitive section devoted to new cinematic visions and aesthetics. Previously, the Czech coproduction Servants, a black-and-white period drama about the Catholic Church's run-ins with the totalitarian government of Communist Czechoslovakia, world-premiered in the freshly inaugurated section under the Berlinale's new artistic leadership in 2020.
Mansky, a vocal critic of the Kremlin who moved to Latvia after Russia annexed Crimea in 2014, works with Hypermarket Films. Among the award-winning and celebrated documentaries produced by the Czech production outfit for Mansky are Pipeline, Gorbachev. Heaven, Putin's Witnesses, and Under the Sun. And the creative partnership continues on the seasoned filmmaker's latest project.
Focusing on the effects of totalitarianism, Mansky has become a chronicler of Russia's post-Soviet development, or, as he put it in an interview with Film Comment, how "totalitarianism in my country is coming out of its grave." We see that effort come to a tragic denouement in Mansky's depiction of the full-blown invasion of Ukraine, shot on the front lines.
Eastern Front offers a unique perspective on the war through the eyes of Ukrainian paramedics. Never-before-seen footage is captured in this time-lapse documentary by Mansky's codirector, Ukrainian DoP and volunteer paramedic Yevhen Titarenko. Titarenko first began to document the situation in his country with the annexation of Crimea, and continued on day one of Russia's unprovoked aggression against Ukraine. Since then, he has remained on the ground throughout.
In addition to chronicling war's grim reality, Titarenko lets his camera roll when he is not on active duty. Personal stories emerge, depicting the fates of Titarenko's colleagues, their families, and the camaraderie that keeps them sane amid the atrocities. With countless hours of amateur and professional footage, Mansky has created a feature-length film that offers unparalleled insight into a war that has been ceaselessly in the news since February 24, 2022.
Eastern Front is a Latvia-Ukraine-Czech Republic-United States coproduction, with Natalia Manskaya (Vertov) and Nataliia Khazan (Braha Production Company) serving as main producers, and Filip Remunda and Vít Klusák (Hypermarket Film) and Kenan Aliev (Current Film TV) coproducing. The film received support from the National Film Center of Latvia, the Czech Film Fund (€92,000), and the Ukrainian State Film Agency.
Next-gen sci-fi documentary
Forum, the Berlinale's independently curated sidebar, highlights reflections on film, socio-artistic discourse, and aesthetics. Dedicated to pushing the boundaries of the medium, this year's lineup will feature the latest project from talented documaker Viera Čákanyová, Notes from Eremocene.
Čákanyová is no stranger to Forum, as part one of her so-called posthuman trilogy, her feature-length documentary debut FREM, a sci-fi doc about artificial intelligence, premiered in the section in 2020. After White on White—winner of the Opus Bonum prize as Best World Documentary Film at the Ji.hlava International Documentary Film Festival, also in 2020—Notes from Eremocene is the final installment of the trilogy.
Though she made FREM first, Čákanyová describes Notes from Eremocene as a prologue to FREM. "Like a message in a bottle cast out into a sea of data, or an analogue fossil waiting to be unearthed by digital archaeologists to come, the work is conceived as a personal project that will be reconstructed and interpreted by my future, virtual self. It is a vision from the present of the world to come, one soon to be transformed beyond all recognition by technologies we encounter today in merely a state of genesis," the director explained in a statement.
In her latest work, Čákanyová questions the idealistic techno-optimistic view of the future. She addresses the likelihood of a dystopian future for humankind, along with other motifs touched upon in her previous films: analog versus digital, nature versus civilization, climate change, and the crisis of representative democracy. In service of her vision, the director employs neologisms, along with new concepts driven by rapidly emerging and transforming technology, and their disruption of the established order.
Form here follows the film's progressive substance as Čákanyová forgoes the routine conventions of documentary-making. She adopts a new visual language of non-sequitur footage and loops from Burning Man as a form of memeification, conducting a dialogue with artificial intelligence and her own immortal digital avatar.
The project was shot on a combination of 8 mm and 16 mm film, with the 3D scenes shot using Lidar technology. DAFilms Distribution will release the movie in Czech cinemas after the local premiere, which is slated for the upcoming edition of Ji.hlava IDFF. International sales are being handled by Czech coproducer Nina Numankadić, of Marina Films.
Czech animation is alive and kicking
Demonstrating the breadth of the current Czech audiovisual industry, Generation Kplus, the Berlinale section spotlighting films for young viewers, is also featuring Czech work this year. Following in the footsteps of Suzie in the Garden by Lucie Sunková, Aliona Baranova's Leaf, and Martin Smatana's acclaimed The Kite, Philippe Kastner joins his animation peers in 2023 with the short film Dede Is Dead.
Kastner is a second-year student in the Department of Animated Film at Prague's FAMU, and Dede Is Dead is a school project of his. A short story based on his personal experience, the work was supervised by renowned Czech animator Michaela Pavlátová.
Dede Is Dead depicts the cycle of grief involved in losing a pet and mechanisms for coping in the aftermath. As in Smatana's The Kite, the psychologically stressful subject matter is handled sensitively, with a younger audience in mind. Daily reality is depicted against a black background, with the white background reserved for dream sequences. The emerging animator's initially austere and economic style blossoms into ornamental and surreal visuals in the film's more fanciful passages.
Taking the long view, Kastner's presence at this prestigious event in Berlin reflects the success of Czech animation in recent years, and its youngest generation especially.
Feminist masterpiece reigns on
As a new generation of Czech filmmakers etches their place in the industry, a Czechoslovak New Wave gem is also cementing its legacy. Following its introduction at last year's Cannes Classics, the digitally restored version of Věra Chytilová's feminist masterpiece Daisies (1966) brings patriarchy-toppling mayhem to Berlinale screens in 2023.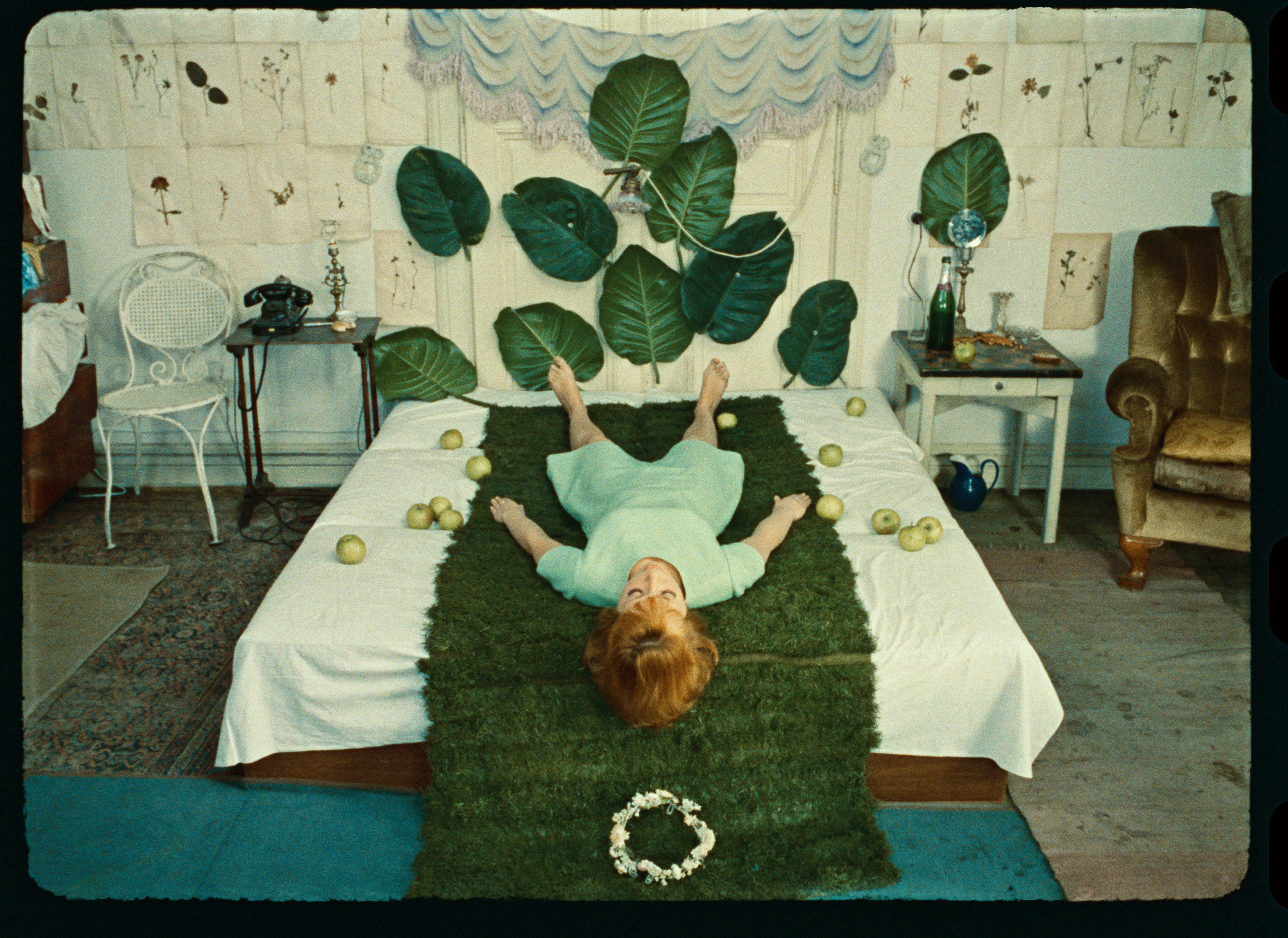 The occasion marks a symbolic silver-screen comeback after Chantal Ackerman's classic of feminist cinema, Jeanne Dielman, 23 quai du Commerce, 1080 Bruxelles, topped the 2022 BFI Sight and Sound poll of the greatest films of all time, and Daisies, the only Czech film in the poll, ranked number 28. Chytilová's most recognized work previously ranked among the BBC's 100 greatest comedies and came in at no. 6 in the BBC's 100 greatest films directed by women.
Daisies' appearance at Berlinale is thanks to acclaimed Bosnian filmmaker Jasmila Žbanić (Quo Vadis, Aida?, HBO's The Last of Us), who selected Chytilová's work, banned at the time of its original release, as her favourite film for this year's Retrospective topic, Young at Heart: Coming of Age at the Movies. "I love the craziness of that film. It's so free and so female. It was—and still is—ahead of its time," Žbanić told Women and Hollywood.